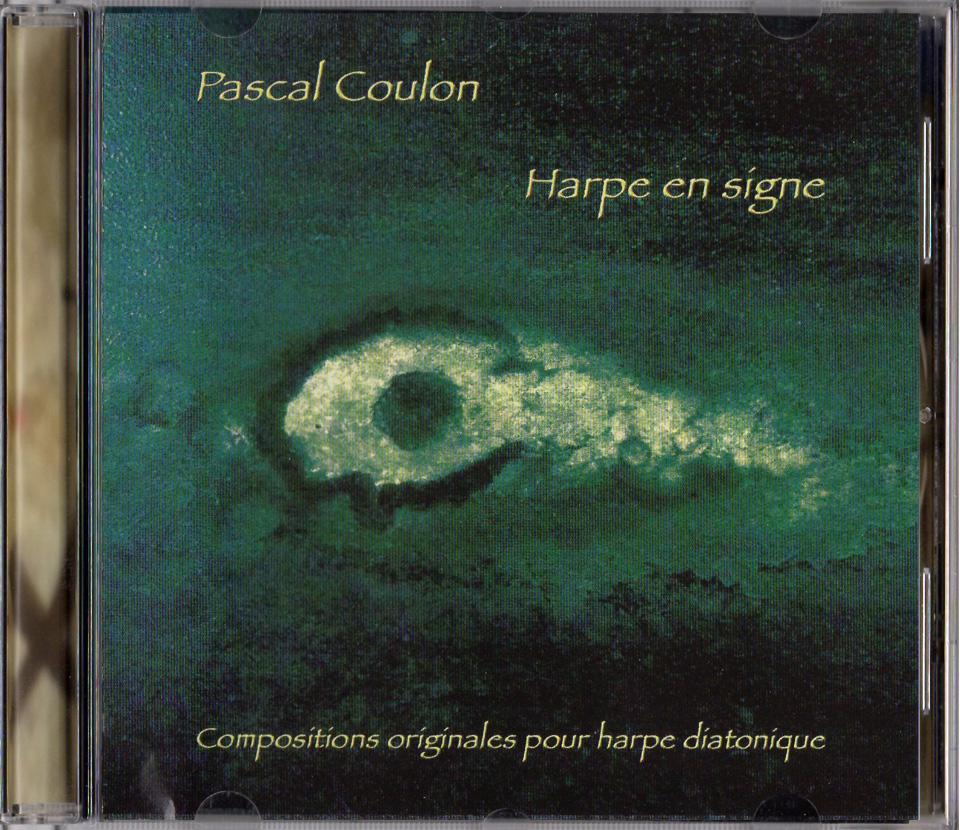 With "Harpe in Signe", I put solos recent next to older compositions including participations of musicians coming from various horizons. "
The cover design comes from a photo taken at the foot of my harp where drops of water from a leak in the roof of the subway had formed a surprising motive, evoquantun eye who was studying me with different intensities, following the fluctuations caused by the fall of water; chance that this scrutiny is established at the foot of the instrument, so me can not ignore it.
There evocation of a sign mysterious came challenge me?  On rainy days the lapping of water drops falling in front of me I was inspired "clapotis of emotion", and influence aquatic yet, "des heads to the lac"and cygne "chant". " Cristal "Cordes" esprimant my desire of musical syncretism. "
For those who will have this CD, I put two other pieces that matter to me: "Air amadoué" that marks the moment where I wanted to free myself patterns inherent in traditional music in order to get my own musical style, and "Ariette in tete" in search of sweetness and nostalgia piece that many parents have told me use to put their children to sleep.
The following is a selection of songs from the Cd "Harpe in sol" the draw now exhausted including "station Denfert" which reminds me of the number of years spent in these places.
Thanks to Philippe Labroue, my mentor.
At Villejuif early 2016 - Pascal Coulon
Of "Harpes Mag" N ° 13, March 2016 - Didier Saimpaul: "
In his latest CD, Pascal Coulon, the Bard of the metro, continues to explore with stubbornness a harp universe well to him, that's like nothing else.
These melodies often simple initially, these obsessive, repetitive jingles, he dissects them, rebuilt them, firewalls of multiple rhythmic ornaments, step by step, stubbornly, like he wanted to squeeze all of the juice, extract what they contain emotion.
Made of techniques and South American accents, but also, often, far-Eastern influences, his game is of great purity, a perfect master, and as his harp sings well, in its subtle diatonisme!
Parisians, finally, you have the chance with your metro!